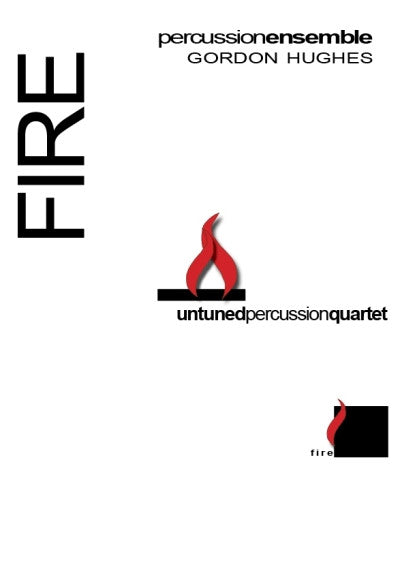 FIRE for Untuned Percussion Ensemble
Composer: Gordon Hughes
Players: 4 (minimum) - can be expanded
Instrumentation: A range of drums or concert toms from 8 inches to perhaps small bass drums.
Grading: A.M.E.B. 4 | ABS 3+ (Intermediate)
FIRE, the element and one of the elemental sounds - drumming! Energetic, full of movement and powerful. This is the first in a series of commissioned works for untuned percussion ensemble and what a way to start!
This work is based on the idea of the irrepressible determination of an intense blaze.  Each section is not clearly marked but dynamic motion is continuous through the piece. The rim and shell sounds are descriptive of the crackle of the fire and the silence (the crotchet rests in the main theme) represent the air, which is the life of any inferno. These rests also add suspense and a sense of unpredictability of the work. As the ensemble moves through the work, flames build and occasionally subside.
Please note the work is represents the energy, motion and determination of fire, not its destructive and negative aspects. Whilst fire is a source of hardship and destruction in so many ways, it is is also an essential element in nature, and the bringer of life.